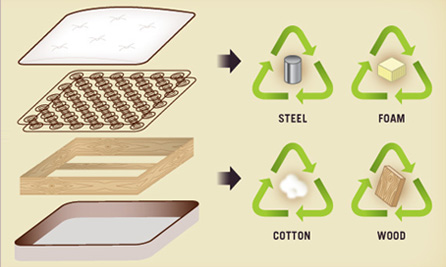 Last Modified: Thu May 11 2017 10:18:29 GMT+0530 (India Standard Time)
Metal (mostly steel).

Foam

Felt

Polyster

Wood

Non-recyclable

Cotton

of steel in an typical mattress. As part of recycling process, steel springs from the mattress are sold as scrap metal.

Wood - recycled into kindling, mulch and animal bedding.

Foam - recycled for use as carpet underlay. Other recycled materials include: husk is used for weed matting and mulch, the felt pads and fabric are used to make boxing bags.
---
---