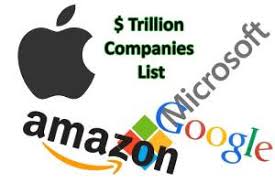 Last Modified: Thu Jul 22 2021 06:22:50 GMT+0530 (India Standard Time)
Apple Inc. The company is the first member of the trillion dollar club and reached the milestone on 02 Aug 2018.

Microsoft - the company reached the milestone on 25 Apr 2019.

Saudi Aramco

Amazon.com Inc - the company joined the club within a month of Apple on 01 Sep 2018.

Alphabet Inc - the 4th company to join the club, it did so on 16 Jan 2019.
---
---